Romeo's Daughter Spin
British AOR/MelodicRock group
Romeo's Daughter
will release their new album, "
Spin
" on
April 20, 2015
via
RD Records/Cargo Records and it will excite any fan of the band in fact any self respecting melodic rock fan will love this.
This is album number four and an amazing 27 years since they burst onto the scene with their debut and this is the follow up to 2012's Rapture cd their first since they reformed.
The band are led by the amazing vocal talent of Leigh Matty with guitars played by Craig Joiner and the rock solid rhythm team of Ed Poole on bass and Andy Wells on drums.
With the unseasonable warm weather we are currently enjoying making it feel like summer is already here,well listening to this only adds to the heady early summer feel.
A glorious mix of rock and AOR and all with the pure velvet tones of Leigh Matty leading the way.
First track Touch was debuted at the recent HRH AOR 3 show the band did in Wales and is a superb opener.Craig's jabbing riff and Leigh's deep vocal in the first verse set the tone before bursting into a huge chorus where keyboards add to the mix.Craig does an excellent guitar solo after a near tribal band workout mid song with deep drum rhythms to the fore.
Already Gone starts on a Craig chug along riff before a cracking pace is set before a huge multi layered chorus.The excellent mix shines with Craig's riff to the fore but you marvel at Ed's bass work that underpins the whole tune.Sure to be played live with the crowd helping out on the chorus.
Love Will Come To Those That Wait is the first ballad with Leigh singing her heart out with at first a keys backing before a picked guitar riff and then the whole band joining in as the chorus kicks in.Excellent light and shade as the song ebbs and flows.
Enemy has an easy going charm with an excellent guitar melody at the start before Leigh sings over a light picked riff which builds into the chorus which shines as Leigh shows off her full range.
Didn't See You Coming starts on a picked acoustic guitar on a song that is Romeo's Daughter unplugged.Leigh's vocal soars in the chorus to new heights and during the verse is quite smoky in comparison.I'm sure it would be a huge hit if radio picked it up.For an song that is played unplugged it has a nice pace to it.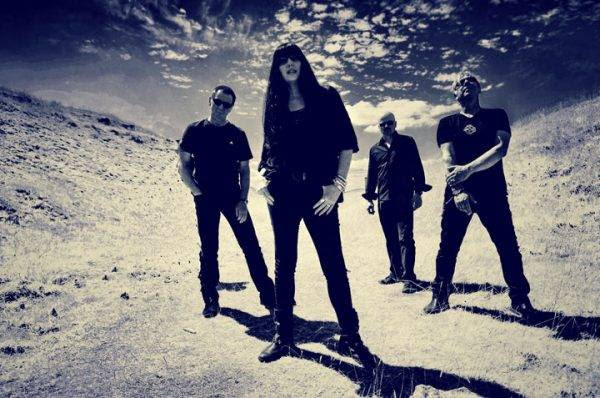 Radio was again debuted at HRH AOR3 and is another beauty with Leigh singing about losing herself listening to songs that shake her bones on the radio.The chorus is fantastic with the lyrics saying give me guitars and a song that I will sing out loud.Hey we all feel like that and how a song can pick you up again.It has a great melody and a lengthy Craig guitar solo takes it to new heights.Absolutely love it as Leigh sings the chorus at the end of the song as Craig solo's behind the vocal.Can't wait to see it played live next month with FM.
Tonight is a laid back mid paced song that sits alongside the rest of the material on this cd very well.
All Because Of You starts on a smoky Leigh vocal and keys before Craig's guitar picked riff kicks in and the rest of the band follow on.A mid paced rocker that really kicks in on a secondary guitar riff just before a superb chorus.Love the extra guitar melody at the end of the chorus and some extra guitar melodies that sit in on the chorus.Craig's guitar solo really fits the song perfectly.
Perfect Plan and Tall Buildings finish the album in style.The former all stop start guitar riff and Matty vocal and huge chorus and the former built on an early drum pattern from Andy and great bass lines from Ed that then builds into the chorus where Matty's vocal whoa whoahs fit snuggly.
Spin sees Romeo's Daughter embrace their past but also look to the future with an album that will delight any melodic rock aficionado.
Catch them on tour with FM next month.