Dan Patlansky extends European Tour with Joe Satriani to 25 shows.
JOE SATRIANI EXTENDS EUROPEAN TOUR WITH DAN PATLANSKY AS SPECIAL GUEST
10 COUNTRIES / 25 SHOWS / 33 DAYS
JOE SATRIANI
has extended the dates featuring DAN PATLANSKY as special guest on the European leg of his Shockwave Tour 2015. The legendary artist and performer announced award-winning singer-songwriter/blues-rock guitarist DAN PATLANSKY as special guest in 10 European countries. DAN will now be playing with SATRIANI from 9 October to 10 November this year at 25 shows in 10 countries over the course of 33 days.
Patlansky says: "Joe Satriani has been a massive inspiration in my life and to many others. He is the most forward-thinking and most inspirational guitar player of our time and I am extremely honoured and excited to be on the road with him."
After the success of the 2015 European release of DAN's latest album, Dear Silence Thieves, at The Borderline in London on 27 April, DAN has been receiving rave reviews in Europe, whilst extensively touring Germany, Poland, UK and the Netherlands earlier this year.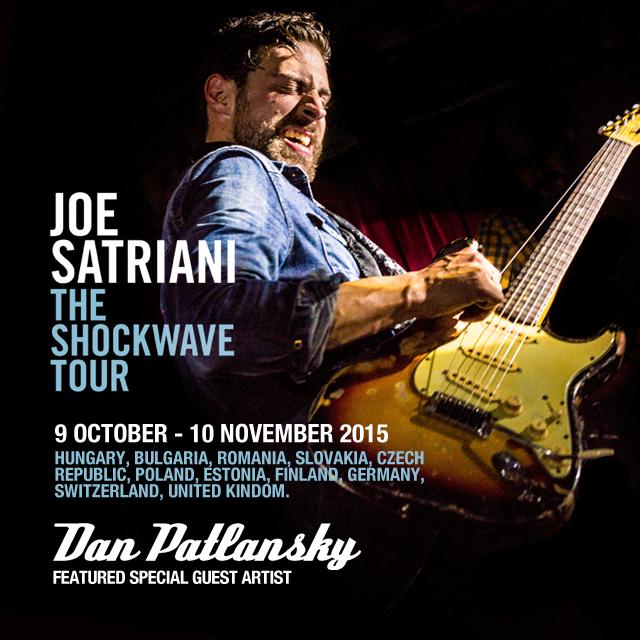 Dan has filmed a special video for the announcement.
The full list of dates is as follows.
Patria Hall, Budapest, Hungary October 9
National Palace of Culture, Sofia, Bulgaria October 11
Sala Polivalenta, Bucharest, Romania October 12
Sala Polivalenta, Cluj-Napoca, Romania October 13
Aegon Arena, Bratislava, Slovakia October 14
Tipsport Arena, Prague, Czech Republic October 15
Werk Arena, Trinec, Czech Republic October 16
Torwar Arena, Warsaw, Poland October 18
Rock Cafe, Tallinn, Estonia October 19
Circus, Helsinki, Finland October 20
Circus Krone, Munich, Germany October 25
Laeishalle, Hamburg, Germany October 26
Admiralspalast, Berlin, Germany October 27
Theaterhaus, Stuttgart, Germany October 28
Salle Metropole, Lausanne, Switzerland October 29
Ruhrcongress, Bochum, Germany October 30
02 Apollo Manchester, Manchester, UK November 1
Birmingham Symphony Hall, Birmingham, UK November 2
Glasgow Royal Concert Hall, Glasgow, UK November 3
Sheffield City Hall, Sheffield, UK November 4
Cardiff St. David's Hall, Cardiff, UK November 5
Southend Cliffs Pavilion, Southend-on-Sea, UK November 7
Bristol Colston Hall, Bristol, UK November 8
Portsmouth Guild Hall, Hampshire, UK November 9
Eventim Hammersmith Apollo, London, UK November 10


Photo credit Bakkes Images.
Dan's latest video was released recently here is Fetch Your Spade.