Joe Bonamassa Royal Albert Hall 20-4-17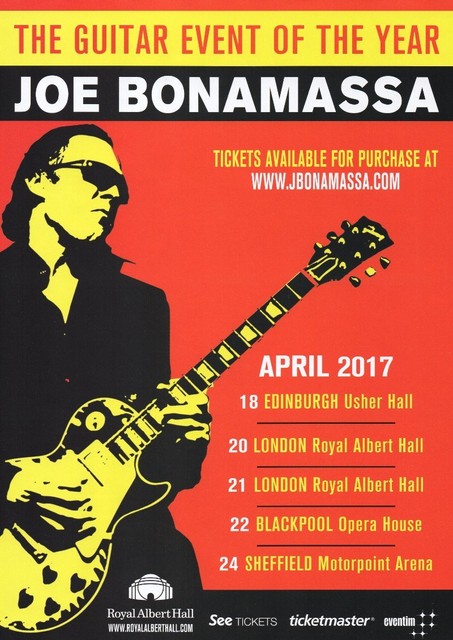 Joe Bonamassa and the Royal Albert Hall are 2 world famous names and as Joe would say it's his favourite venue in the whole world so this was going to be amazing.
Only his third time at the famous venue (after 2009 and 2013) and with 2 dates both sold out the air of anticipation as I entered the arena was palpable.
From my wonderful seat stage right it was a fantastic view point with the stage to my left and to my right the breath taking look out into the crowd as it soars upwards from floor to boxes into the stunning roof area wow.
At 7.30 sharp the house lights dropped and after a short intro the crowd rose to welcome the hardest working man in music and his quite simply jaw dropping band.
Here who Joe shared the stage with last night.
·
Michael Rhodes
– Bass Guitar
·
Anton Fig
– Drums + Percussion
·
Reese Wynans
– Keyboards
·
Lee Thornburg
– Trumpet
·
Jade Macrae
– Backing Vocals
·
Mahalia Barnes
– Backing Vocals
Everyone a world class performer and to see them so close and feel their intensity and passion and desire to be the best was mind blowing.As Joe took centre stage and as the night unfolded I took the time to watch the band and they are a tight well oiled machine and the groove they lay down song after song for Joe was fantastic.
The set was a mix of Blues For Desperation (5 of the first 6 songs) and last years
British Blues Explosion tour featuring music by Jeff Beck, Eric Clapton and Jimmy Page with the following
remaining in the current set – 'Mainline Florida,' 'Boogie With Stu,' 'Little Girl,' 'How Many More Times' and 'Pretending' and fan favourites too from Joe's extensive original back catalogue and some of the Three Kings tunes too.
Here is what they played over the course of 2 and a quarter hours.
Blues Of Desperation is in my opinion the finest work of Joe's career so the first 45 minutes seeing 5 songs performed was superb and to see how the songs have developed over the last year on the road.This Train is a mighty opener with Anton Fig pounding out a crushing beat and a huge vote of thanks to the sound man who nailed it right from the word go.
Mountain Climbing's stop start riff rose to the roof tops and again the band locked in with Michael Rhodes bass runs rumbling the venue floor and the backing vocals from Jade and Mahalia giving the sound a huge depth and complimenting Joe's impassioned vocal line.
Blues Of Desperation builds from an atmospheric start and Joe's breathless vocal and soars as the main riff kicks in as the band hit hard and again you can feel the intensity as the song ebbs and flows and Joe has some real fun with the solo as the band keep firing underneath his guitar fireworks.His slide work is a revelation.
No Good Place For The Lonely is a stunning piece of work from Joe's early song guitar sol melodies and we all it builds to one of the best guitar solo's Joe has ever produced and that says something.It starts all picked notes as the band take it down a notch and builds as do the band as Joe does to a crescendo of fast picking and held notes and melody and as I look out into the audience they are transfixed knowing they are seeing a genius at work.As the solo builds to an end the crowd rose to their feet as one to applaud such majesty and a life highlight for many.
How to follow that well with a song not played on last March's dates and a favourite of mine How Deep this River Runs.From its gentle beginnings and Joe's superb vocal melody to the biggest chorus ever both vocally and musically and the backing vocals from the girls had the hairs on the back of my neck stood to attention.Even better than I had hoped for and the lengthy guitar solo was another moment to watch everyone at work and a musical master class from all involved.
Reese Wynans on keyboards is in the Rock N Roll Hall Of Fame and to see him as his fingers weave to and fro and the sheer joy they get from performing is life affirming for me.
Boogie With Stu saw some honky tonk keys from Reece and wonderful backing vocals again before as the song developed with each band member getting a solo piece amongst the song with Joe making sure the crowd applauded every one.Loved Paulie Cerra's sax solo what a sound.
Love Ain't A Love Song was a mid set tour de force with Joe's extended guitar pickings taking it down to a whisper with the crowd deathly quiet and watching every note.Amazing how 5000 people can make so much noise yet as one not make any all watching with awe.
Dust Bowl was a pleasing re entry into the set with it's atmospheric guitar pickings and Joe's vocals superb showing how hard he has worked on that instrument too.Rhodes's bass lines and his obvious enjoyment of playing music made him a focal point too.
Eric Clapton's Pretending was superb with the girls backing vocals a highlight as Joe's guitar ad libs under the chorus of himself and the girls again being aided by the sound quality.What a wonderful version and by now we were all out of our seats and on our feet rocking out.
After a short moment Joe and his band returned for an encore of BB King's Hummingbird which seals the evening with the song encapsulating everything we have seen.Band interplay of the highest quality with exquisite vocals by Joe and Jade and Mahalia and of course Joe's guitar playing that sees him at the very top of the highest tree in every single aspect the man is untouchable.
Simply the best that there is.
Joe Bonamassa and your band I salute you.
Joe confirmed from the stage that he will return to Royal Albert Hall in 2019 with 3 nights to celebrate his 10th anniversary of playing there.
Something to look forward to but still a couple of dates left on this tour with a few tickets available for Sheffield on the 24th.